Roll over image to zoom in
Description
United Kingdom - Shipping Information
Shipped same day all orders before 3pm 

Q: Will it work in my van ?
A: Yes the Smart 360 Theft Alert system will work with any van.
Professional Protection 24/7 for all light commercial vehicles  

The Smart 360 Theft Alert one sensor pack has everything you need to get up and running. This bundle comes supplied with one sensor, unlimited additional sensors can be added to meet your requirements and are available for purchase separately. 

Theft Alert is a powerful Smart alarm and alert/notification system that uses high-performance components, materials and advanced wireless communications technology and software into a robust intelligent alarm and early warning system. 

Unboxing

How to Install into any size van real time demonstration 



Cargo Area Total Protection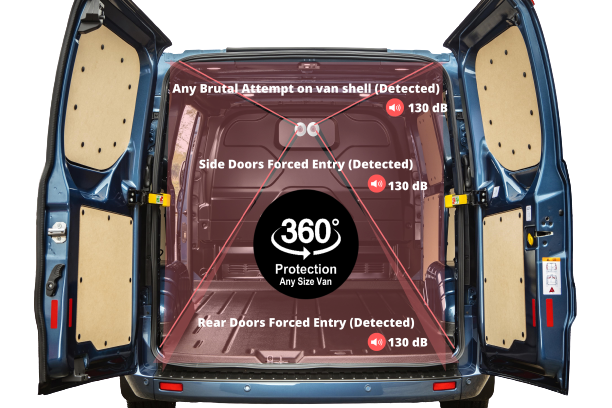 Drivers Door Lock (Just one example)

Extra Locks

Side/Rear Doors
Add as many extra sensors & sirens as you like 
| | |
| --- | --- |
| Wireless PIR Sensor | Wireless Shock Sensor |
| | |
| --- | --- |
|  130db Siren | Mini flashing siren |
| | |
| --- | --- |
|  Siren extension cable | Siren splitter cable |
_______________________________________________

How to Control

Voice Prompt
Simply call the sim number inside the hub and follow the voice prompts
(Choose your own 4 digit PIN on set up)

Keyfobs or SMS Text message
Android/Apple APP

What's in the pack ? 
Included in the pack
1 X Smart 360 Van Theft Alert HUB (S360-H1)
1 X Smart 360 Wireless P.I.R. Sensor (S360-P1)
1 X Smart 360 Siren - (S360-S1)
1 X Smart 360 Siren Extension Cable (S360-CB1)
2 X Smart 360 HUB Remote Key Fob (S360-RC1)
2 X Smart 360 Window Stickers (Smart360-WS)
1 X Smart 360 HUB 12/24V vehicle charger - (Model No. S360-C5)
1 X Smart 360 HUB 12/24V Wiring Fused (S360-W1)
1 X Smart 360 Piggyback Fusebox Connector 
1 X Smart 360 HUB 12V PSU (S360-PSU1)
1 X Free Sim Card (Pay & Go)
1 X Quick Start Setup Guide (ENGLISH)
Specifications
Smart 360 Wireless P.I.R: Battery Life Standby 2 Years 
(replaceable)
Alert Response Time: Within Seconds
Power Requirements: 7.4V - Internal Backup Battery 850mAh (up to 24 Hours)
Working Temperature: -20°C - +60°C
Humidity: 95% (Non Condensation)
Key Fob Battery: 2 - 3 Years
Siren: 130db
Installation Wiring Input: 12/24V Output: 7.4V (Posstive & Negtive)
Dimensions: 14.5 x 8.5 x 21 cm
Shipping Information
United Kingdom -
Shipped same day all orders before 3pm
W
orldWide - Express International shipping 

£10 shipping charge from the UK to anywhere
in the world